From HobbitHoleWiki
HobbitHoleWiki:More Info
From HobbitHoleWiki
Has anybody thought of this before?
There is a site about his idea, entitled 'Bag End 2 (http://www.stormbear.com/bagend2/index.php)' but it appears to be as yet an idea in the preliminary stages, as far as we can tell. You can check out his concept illustrations and information here (http://www.stormbear.com/bagend2/index.php). Similarly, here's another website with some good research and links to other resources, but no progress report here (http://www.green-trust.org/bagend.htm). A number of homes exist that are earth-sheltered, but are more like traditional houses built to take advantage of the underground advantages, such as this one in the UK (http://www.bbc.co.uk/wiltshire/villages/nettleton_underground_house.shtml). Additionally, here you can find an architect who designs underground homes (http://www.malcolmwells.com/).
Won't a Hobbit Hole be too small for you?
We'll be making it human-sized, since we want to live in it and not look like that Geico commercial with the reality show about the small house. The rooms will probably be around 8 feet tall, and the total square footage of the house around 2,500. This is all subject to change, depending upon our design requirements as we obtain land and a builder and the project progresses. It will also be nice having it all be on one floor with no stairs, since we'd want it handicapped accessible in case the need arises as we get older, Tania in particular.
What materials will you be using?
Probably a steel beam-support structure as used by Davis Caves (http://www.daviscaves.com), and shaped inside with concrete and other materials to make the circular halls we want. Inside we envision a wooden infra-structure, allowing flat hardwood floors to separate off an area at the bottom of the tubes for wiring, heating and AC ducts to be laid throughout. The side walls will be covered with wooden panelling to preserve the circular design but make it more like a ship cabin than a sewer hole (concrete just *isn't* cozy!). In many places we'll have to have custom carpentry done to build shelving and cabinets into the rounded side walls. The ceiling will also have wooden panelling, with frame work built in for the many skylights (as seen below) and retractable covers for them. We're also considering other building techniques for underground homes such as Monolithic Domes (http://www.monolithicdome.com/) and other Earth Shelters (http://www.earthshelters.com). The final decision will be primarily determined by cost and Tolkien's specifications.
What technologies are you considering?
Many of our fans have suggested solar power, and this is becoming a distinct possibility! Due to the low power required to maintain the temperature of an earth-sheltered home, solar power can go a long way. Of course, we both have our own computer and other electronics, but solar power should still help in cutting power costs further than this type of home already will. We also would like to look into water-reclamation, since most of Kent Island functions off of well water and some summers drought becomes a concern.
Why is your idea any different from what already exists?
Our idea is to build a Hobbit Hole, not just an earth-sheltered dwelling. The Hole will be built as closely to Tolkien's specifications (as detailed on the Main Page) as possible. Below you can see a concept sketch of the current floorplan, although this is subject to change. We don't have quite as many pantries and wardrobes as Tolkien envisioned, but our needs will be more in the way of bedrooms and bathrooms, as we hope to raise a family in it someday and run a Bed & Breakfast in the meantime.
What's new in your bubble diagram?
Tania has worked up a new design that more closely resembles the famed Bag End. This one is obviously more organic looking and might look better built into a hill, even one of our own making. The small thin-lined circles are skylights, the dark rectangles are doors, and the darker and larger ellipses are windows. You can still view the previous design and update below this one. Feel free to email us and share your comments and suggestions!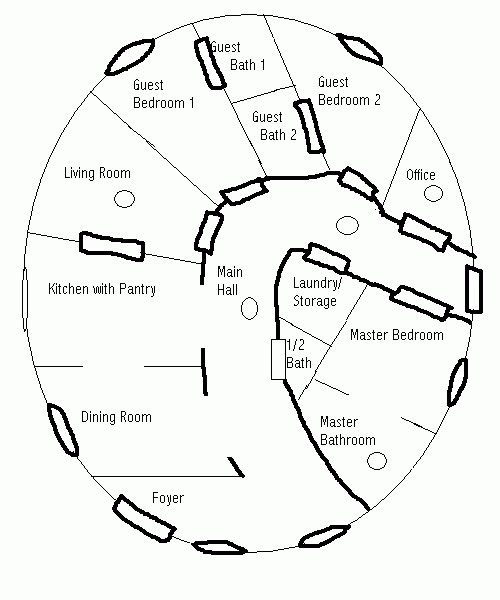 We've begun referring to these sketches as a bubble diagram at the suggestion of our architect, since so many have wrongly assumed they are blueprints, when they are still very much a work in progress and liable to change. Since we'll likely be building up earth on both sides of the dwelling (due to a lack of natural hills) we've decided to put windows in both sides for more light. We also moved several of the rooms after putting more thought into them and getting lots of suggestions from our readers. We're trying to get the size of the construction down to what's necessary in order to cut costs but still make maximum use of the spaces. To that end, we've removed the space between each room (still going with curved rooms, though, so they'll still have some cement/dirt insulation between them). You can still see the first bubble diagram here (http://www.ourhobbithole.com/Images/HHSketch1.gif) for reference, although the room letters have changed a bit.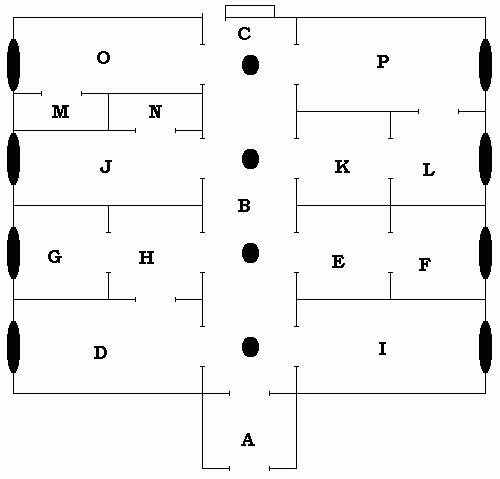 Key: The Dark elipses are windows, the open gaps are doors, and the dark circles are skylights.
A. Foyer, B. Hall Library, C. Fireplace & Emergency Exit, D. Dining Room, E. Storage, F. Laundry Room, G. Pantry, H. Kitchen, I. Living Room, J. Bedroom, K. Computer Room, L. Master Bathroom, M. Bathroom, N. Bathroom, O. Bedroom, P. Master Bedoom

Just who are you, anyway?
We're just a young married couple - of geeks. You can see my other domains/projects at Loftgeeks.com (http://www.loftgeeks.com), AndHeLived.Com (http://www.andhelived.com) and RobIsCrazy.Com (http://www.robiscrazy.com). You can read about my wife at her livejournal (http://www.livejournal.com/users/funnel101) or on her website (http://www.thefunnel.org).

So, what about Davis Caves, one more time?
Davis Caves (http://www.daviscaves.com) makes underground homes, and so far they look like the best bet to getting this project done with builders experienced in these matters. Perhaps if I garner enough hits for their website, they'll consider doing this at a discounted rate for the publicity? Pretty please?